Innovative designs, natural beauty, functional, and sustainable features – that's how we transform the land into art.
Artscape Land Design professionally installs our designs, including bed preparation and the installation of the best quality soil and plant materials.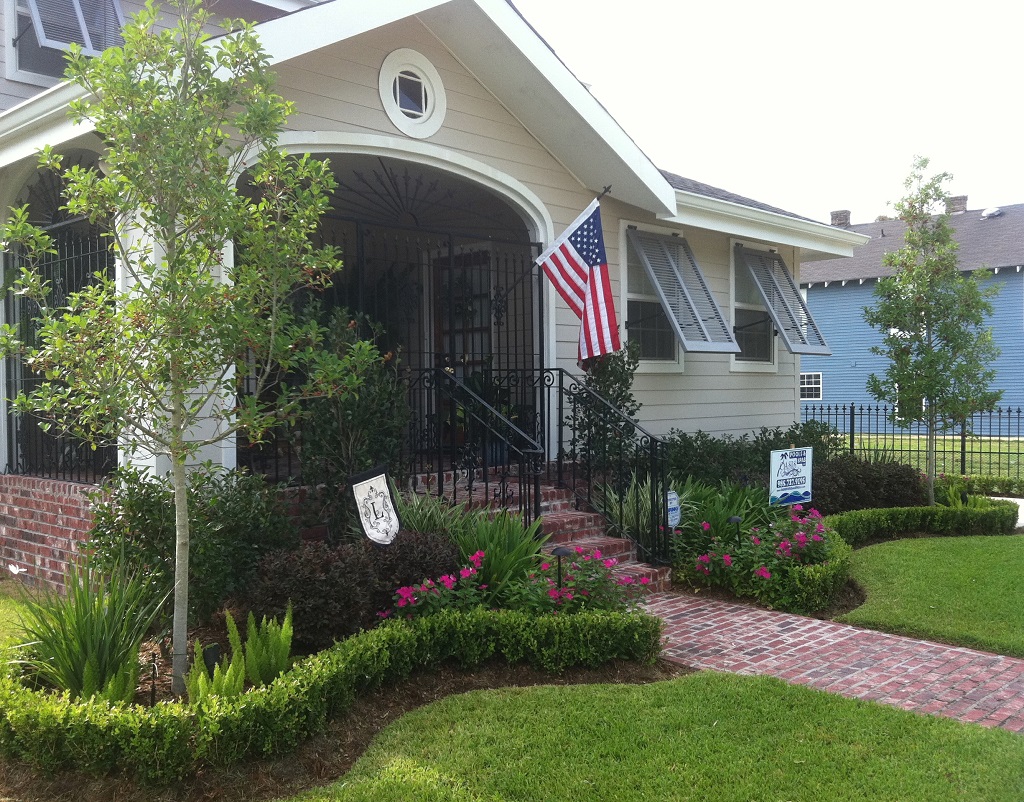 The architects at Artscape Land Design, personally select and manage the planting of all the trees, plants, groundcovers, annuals, and perennials. We also add a granular weed preventer (that lasts about 2-4 months) and only install "Grade A" quality cypress and pine mulches.
To us, quality is more important than quantity. For you, that means you get extra attention to detail on every aspect of your project.
How Does Artscape Land Design Begin A Landscape Installation?
Each landscape bed is created from scratch and carefully prepared with a generous layer of fertile, nutrient garden soil with the proper PH level for maximum health. We support local businesses, so plants and trees are selected from mostly Louisiana wholesale nurseries, and we ensure they are always the healthiest available.
We believe in the saying "an ounce of prevention is worth a pound of cure," so we include a weed preventer with all Artscape Land Design installations. The preventer we use is a natural, granular chemical that biodegrades into the soil to prevent most weeds from germinating again. Plus, this weed preventer is also safe to use around children and pets and lasts from about 2-4 months.
We recommend that the garden is maintained by the owner or a landscape maintenance expert (once a month or bi-monthly) to keep weeds out of the new landscaping.
How Do I Maintain My Garden?
All landscaping requires maintenance, but we try to design them to be as low-maintenance as possible. With our installation, we provide you with a "Do-It-Yourself Maintenance Schedule" that includes month-to-month care along with "Landscape Maintenance Information," which includes where to purchase replacement plants, mulch, soils, and parts for lighting and irrigation systems.
If you do not have the time or energy to maintain the project on your own, we will also supply you with a list of highly recommended landscape maintenance contractors in town.
Artscape Land Design does not have a maintenance division, but we provide our clients with a list of the best garden maintenance companies in the New Orleans area to take care of their project, including our sister company, Shelly Bernstein Landscape Maintenance at (504) 234-4944.
We recommend that the landscaping is maintained at least 6-12 times a year, especially during the warm spring and summer months, where weeds are most problematic in southern Louisiana.
Do I Need A Sprinkler System?
Yes, an automatic sprinkler system is highly recommended for your new landscaping. Water is the most vital nutrient for plants. Even though Louisiana gets plenty of rain each year, most of those showers are not every day, and sometimes we do not get any rain for weeks.
Most plant materials in the southern Louisiana heat will die very quickly without a daily dose of water. Automatic sprinkler systems ensure all plant materials receive the proper amounts of water each day.
Our sprinkler systems are reasonably priced and actually can save you money because the system waters your garden before the sun rises with only the minimum amount of water the plants need to thrive.
At Artscape Land Design, we cannot give you a guarantee on your plant materials without the purchase of a sprinkler system, so it is well worth the reasonable extra cost for peace of mind.
Artscape Land Design designs and installs this affordable and water-conserving automatic irrigation system. It connects to your existing outdoor water faucet with a battery-powered automatic water timer. This is a durable, all rubber low-maintenance sprinkler system with real spray heads.
The heads are already a few inches out of the ground and spray water in a variety of patterns – ideal for residential gardens at a fraction of the cost of an extensive system. This system is much less expensive and uses less water than the large PVC pop-up systems.
This more expensive and more elaborate system is made from hard PVC piping and includes powerful "pop-up" sprinkler heads and a computerized main controller box. This system may require a backflow prevention system and a possible extra water meter and uses more water than the micro-systems.
This system is recommended for large residential projects and most commonly used in large commercial projects. It is more ideal for massive landscape projects with multiple garden beds and large lawn areas.
"*All Artscape Land Design installation projects include a full one year warranty that includes materials and labor. However, grass sod is not included in our warranty, and our warranty does not cover acts of God (such as storms, hurricanes, wind or winter freezes) or damage by pets or children.
For more information on our warranty, please contact the owner of Artscape Land Design."
For Landscaping & Irrigation Images, Click Here